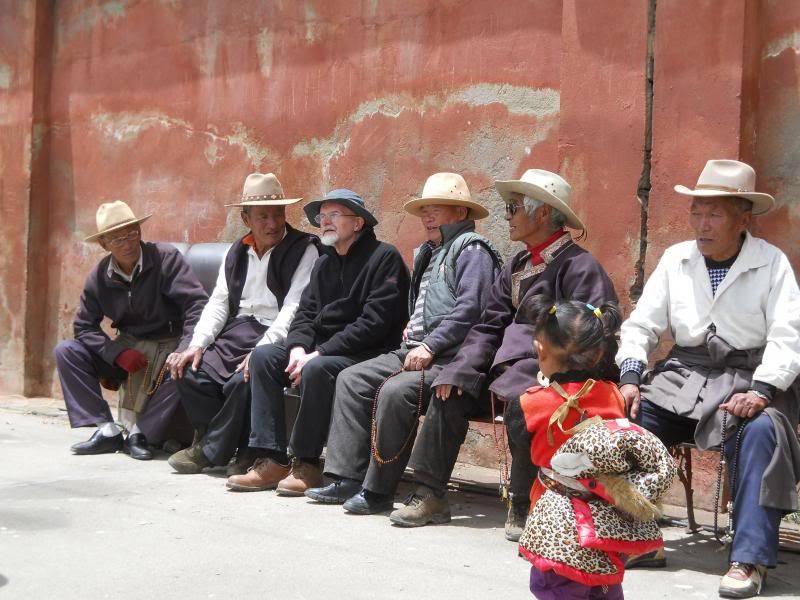 I've not visited Lhasa and can't comment on the situation there, most reporters go there with a bias and a fixed prejudice, putting money directly into the Chinese government's coffers by purchasing the Tibet travel pass. They seem to forget that the Tibetan Autonomous Republic is only a third part of what used to be called Tibet and you don't need a permit to visit Amdo and Kham, which are still there, albeit renamed parts of Chinese provinces. I took the long road journey to Lithang in Kham, now part of Garzê Tibetan Prefecture, western Sichuan Province and my prejudices and biases travelled with me too. Having spent over six months doing voluntary work at LHA, McLeod Ganj, I became very close to some Tibetan people. The majority of my Tibetan friends had taken the difficult journey from Lithang and Chinese oppression, across the Himalayas to claim sanctuary from the Indian government. I'd been a supporter of the Free Tibet movement since, as a child I had watched the footage of the 14th Dalai Lama arriving in India and feeling that it was unjust that his country had been taken from him. I've had the privilege to sit very briefly at his feet and exchange smiles, when my fellow Tibetans were too respectful to look above those feet. This man is very genuine and I won't hear a word against him but my recent experiences have led me to believe, controversially, that it may be time for him to return to Tibet. Of course it won't be possible under the current government but young people are running China today and they are very embarrassed by their incompetent leaders.
I vividly remember one day in June 2010 being shown photos of Lithang and the love of their hometown in the eyes of two remarkable young Tibetan women, who I have the greatest respect for. They told me stories of eating dried Yak meat and the hunting of the Yasargumba caterpillar plant and I determined that one day I'd go there. The problem was I first needed a Chinese visa and discovered the easiest place to obtain one was at the Chinese consulate in Songkhla, southern Thailand. My wife was to accompany me with the greatest apprehension, having been brought up in 1950s Hong Kong she didn't have a very happy picture of life in China. We expected to enter a land of oppression, police surveillance, constant security checks and a land of discontented people. My prejudices started to waiver when we arrived at Songkhla's consulate, half an hour after opening with only two people waiting in front of us for the visa. The Chinese lady behind the desk was very helpful, welcoming and very happy that we wanted to visit her country. I've had some miserable times applying for Indian and Thai visas but this was the easiest procedure I've been through. Had I applied in the UK, I'd have had to supply details of my every movement over the preceding year, my exact plans for travel in China, travel insurance, a letter of introduction from a recognised Chinese travel agent and a return flight ticket. We had none of these, we were asked did we have a return fight ticket to China; we didn't as we were afraid we might not get the visa. I showed her our return flight ticket to the UK from Bangkok and she said that would do nicely.
We arrived in a nearly deserted Chengdu airport at 11.30pm, as we knew that there was no public transport around this time, we'd arranged a pick up from the Dragontown guesthouse. A very helpful driver was there waiting and although he spoke no English, he showed us where the ATM machine was. Having a fistful of Yuan we set off with him feeling a lot more confident. He dropped us at the bottom of a dark deserted street, which looked as if it had been built in the seventeenth century. "Dragontown that way, no cars!" the driver told us and our apprehensions returned. We actually walked past the guesthouse entrance, retraced our footsteps and saw the small sign in English. The young night manager greeted us in fluent English with a big smile and the key to a charming room with its own patio, for only 90 yuan a night. The morning showed us that our prejudices had played a joke on us, the street outside was part of the Wide & Narrow Alley, Qing dynasty reconstruction project and bustling with chic restaurants and tourist shops. The remodelling was of a higher standard than Disney World but had a very similar ambience. From the first day we were entranced by this beautiful city, the people's wealth, the number of parks, most looked after by the local people on a voluntary basis but most of all we were impressed by the freedom people had. Pauline in particular had her fears quelled; it was like being back in Japan, this was not the China she had imagined. Unlike India, most people finish work around 5pm and head off to the People's Park to express their individualism through song, dance, painting with water and writing poetry, which is posted along the poets' lane. Tea houses are everywhere and problems with the government are freely discussed but there still remains a respect for the Cultural Revolution and the equality it has brought to today's generation. The city seems to be run by very young people who have an amazing ability to do the right kind of business and provide the latest in European and American fashion and lifestyle trends. I'm going to discuss cultural assimilation in more detail later, as it is one of the criticisms against the Chinese intervention in Tibet. Right now I have to say that today's Chinese have happily assimilated everything they want from the West, including the importance of individual expression. All the great European fashion houses have a presence in Chengdu and a lot of money is spent on mixing and matching clothing styles, to create sometimes whacky manga style looks. The young women in particular are proud to display their sexuality wearing incredibly short skirts and everyone looks very fit. Unlike US and European cities, people are happy to walk everywhere, albeit dodging the electric motorcycles, which have the same right of way as bicycles, the People's transport for so many years. The traffic lights have green cycles next to green men, which make crossing the road quite a challenge when combined with the American driving rule of being able to turn right at every junction, as long as it's clear to do so. Driving through pedestrians on the crossing is not considered a problem for the city's taxi drivers, just an obstacle course. I'm painting a picture of a very American city and it is America at its best, the respect for its past for instance, some of the Qing dynasty reconstructions are jaw dropping in their detail. Reporters have been critical of the destruction of old Lhasa but old Chengdu was destroyed too but now they are pulling down the 1960s communist style apartments to rebuild the past; this will happen in Lhasa. It's a myth to say that China wants to destroy Tibet, true they want to control it but they know how much Tibetan culture helps tourism. Tibetan traditional culture is far more alive than Chinese Han culture, the Han people have fully assimilated Western values including on the whole our godlessness but they are way ahead of America when it comes to self perception and confidence.
The road from Chengdu to Lithang and on to Lhasa requires an overnight stop in Kangding, the beginning of Tibet. At 2600 meters it helps acclimatise one for the high Tibetan Plateau and provides the truck drivers on their way to India with some welcome distraction. I have heard and read about the pink lit Chinese brothels here and the condemnation of them by some of my female Tibetan friends. What no one prepared me for were the numbers of freelance girls working the main street, a lot of whom were Tibetan, wearing not high heels and short dresses but traditional Tibetan costume. The drivers are prepared to pay a lot more for the thrill of having a Tibetan woman. We spent several days here; walking the streets by myself I was approached by some of the girls. They were under no compulsion to do the work and were freely accepted by local restaurants and shops that allowed them a fixed spot outside their premises. The monks in Kangding and Lithang are a laid back lot, as many are in Dharamsala and contrary to rumours; photos of the 14th Dalai Lama are on open display in the gompas and surprisingly some of the shops. I even drank some of the holy water given to the monastery in Lithang by the Dalai Lama. This is another sign of relaxation and of the inevitability that the current Dalai Lama will be allowed to live out his life in peace but I doubt he'll be given a Chinese visa. True, the Tibetan flag is outlawed but Buddhist flags are substituted and are on far more common display than the red flag of the republic. The Chinese government is wise enough to know they have to allow the Dalai Lama to live out his days, so they can then start the process of the establishment of the next Dalai Lama and a new dynasty of Han selected spiritual leaders. Surprisingly many Tibetans have accepted the Chinese chosen Karmapa but photos of both candidates can be seen in some monastery temples, along with the photo of the 10th Panchen Lama. The photos of the 10th Panchen Lama are there as none of the gompas seem to accept Gyaltsen Norbu, the Chinese choice for 11th Panchen Lama and you won't see his photo. There seems to be an overall belief that the original 11th Panchen Lama is still alive. The monks do hold power but they are in no position to run a free Tibetan government and the government in exile in Dharamsala are too removed from the majority of Tibetan people in the Tibetan provinces.
Most Tibetan people are well assimilated to life in Kangding and the younger generation are happy to have the freedom that a Chinese passport gives them. We met a young Tibetan woman who wanted to be known as Mary, she owned and ran a traditional Tibetan wedding shop. Mary had been an English teacher but very few in Kangding wanted to learn English, Chinese was the language of business. I asked if she had thought of going to Europe or America and claiming asylum. She replied that she didn't want a job cleaning Western toilets and was happy being with her family and having her own business in, Kangding which she insisted was very much part of Tibet. This feisty woman had made her choice and was fighting for her country's identity in her own way. She was wrong on one point though, she considered that Lithang was a backwater and that I'd not find anyone there who could speak English because she said, if they spoke English they'd leave. I was about to meet yet another remarkable woman who would turn my prejudices and Mary's upside down.
The bus to Lithang only leaves every other day, as there was a public holiday; we had to wait three days to get our bus. Travelling in China can be very difficult if you don't speak and read Chinese, which makes finding the right bus a challenge. The difficulty is compounded by fact that all the buses from Kangding leave at the same time, 6.30am. We arrived half an hour early but still found it difficult to find our bus amongst over twenty others. We found it with just five minutes to spare, after being sent in every different direction by well meaning but not very helpful people. The road to Lithang is a challenge, every part of it is being improved and widened, five years from now it will be like travelling through American mountains, right now it is a dusty chaos. You are travelling up and up onto the Tibetan Plateau, winding your way to the high grasslands surrounding Lithang. After ten hours of long drops, yaks and nomad camps you are rewarded with the view of the plain Lithang is situated on and the spectacular snow covered peaks beyond. When you arrive in the town you are in no doubt that you are in Tibet, dusty roads, prayer flags and cowboys on motorbikes. A heavy police presence broods over the central crossroads which doubles as the town square and in truth is intimidating. The problem is that there is a lot of unemployment amongst the young men, so they congregate at the crossroads in hope of hearing about some work. A new public square is under construction, rather like the main square in Kangding, not far from the crossroads and not far from the birthplace of the 7th Dalai Lama. There are quite a few Chinese restaurants and supermarkets but most businesses are Tibetan owned, including the Potala Inn where we checked in. The Tibetan owner only had only a few words of English but a curtain parted behind reception and a lady's voice spoke in that familiar slightly gruff and throaty Lithang English I know so well. I only saw her hand as she was in her bed in this little room. She said that there was a special off season rate available and told the owner to take us to the top floor where we'd find a western bathroom. Having very bad knees I do find squat toilets very difficult, I just can't squat. The bathroom might have been a bonus but one wall was built out of four glass panels, giving us a breathtaking view of the Tibetan mountains; I'd have taken it at almost any price. I arrived in Lithang expecting to rough it for the duration of our stay but the Potala Inn defied my expectations. Everyone who knows me, knows that I find Tibetan women amongst the most beautiful in the world and I have a habit of falling in love with too many of them. Cartoon hearts revolved around my head when I eventually met the owner of the voice behind the curtain, Medok, the guesthouse manager and a one woman campaigner for a better life for her people. I was captivated by her lilac eyes; they captured the dawn lit snow of the distant peaks, her eyes turned almost ultraviolet when the sun caught them at the right angle. Like every Tibetan woman I've known she has amazing strength and can take on any task the hotel throws at her. She was despairing that the water pump had broken in the sister hotel, the International Youth Hostel. "You can't get anything useful in this town, someone has to go to Chengdu for a replacement!" The Chinese are building the new road which may or may not help expand the town but right now it is only intended as an easier conduit for Chinese goods to Lhasa, Nepal and on to India. There is however no reason why Tibetan goods can't follow the same route but there's not much being produced for export. When I enquired if I could buy a pair of Tibetan yak wool socks, Medok told me that they are only made in Nepal and all Tibetans wear Chinese socks, they are cheaper! Medok had a Chinese passport and was fortunate enough to have been taught Mandarin as I child, unlike most of my Tibetan friends of her generation. She had gained a scholarship from the Tibetan Foundation to go to England to study the language. She was very pleased to talk with me, "You speak English English, so many tourists who come here speak American English but I love your native language, so many beautiful writings have come from it". I told her that arguably Wales' greatest poet, Dylan Thomas, agreed with her. Despite enjoying her stay in the UK, she felt it was her duty to come back to Lithang to help her generation catch up by teaching English and Chinese to them. Fortunately, today's Tibetan children are taught Mandarin alongside Tibetan and I'm pleased this is happening because they will be able to find jobs in the new China which is rising out of the fires of the revolution. You may wish to call it cultural assimilation but as a Welshman, I've been culturally assimilated into an English speaking world and I have no problems with that. Both the Welsh and the English have lost their culture and we have been absorbed into a transatlantic sub-culture years ago. My first experiences of television, in my grandmother's house was that of 1950s western shows, Wagon Train, Gunsmoke, Wells Fargo and American written episodes of Robin Hood. Tibetans are fortunate, they may not have the freedom they desire but they have a strong living culture and language which will never disappear. As a Welsh person I have to live with myths of rugby victories and a medieval literature which was discovered by the English upper-class. Tibetans have been ruled by many different people over thousands of years but their culture survived the changes and it will always remain that case. Tibetans have always lived alongside China, they have ruled the Chinese and have been ruled by them but have retained their identity. China today is trying to find its culture again by reconstructing the past, the truth is they have been culturally assimilated by the West but retain a much healthier view of living. China only remains Eastern because of geography, they have what they've been asking for since the late 80s, Western values and a culture that only lives in the past. Tibet is alive today; it takes what it needs from the rest of the world but is happy to live the way it has always lived. So many of my dear Tibetan friends in exile are being culturally assimilated, burning to get to Western freedom and the beautiful things that are on offer in our countries, almost all of which are made in China.